Man 'on way to kill David Cameron' had haul of weapons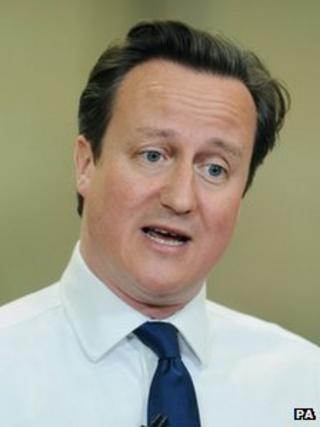 A weapons haul was found by police in the car of a man on his way to kill the prime minister, a court has heard.
Irfaq Naz, 34, had a 950,000-volt stun gun, hammers, kitchen knives, a machete and a samurai sword.
Last month Naz, a taxi driver from Middlesbrough, admitted several charges relating to the possession of weapons.
A hospital order with a restriction order was imposed meaning Naz can only be released with the permission of the home secretary.
Earlier, he was disqualified from driving for three years and the weapons were ordered to be destroyed.
Teesside Crown Court was told Naz was stopped at 04:00 BST on 16 July after going the wrong way down Camden High Street in north London in his Vauxhall Astra.
'Knuckleduster'
Nick Dry, prosecuting, said: "It was then that the defendant stated that he was on his way to kill the Prime Minister, David Cameron.
"He was found to have a knuckleduster in his shirt pocket and an 18-inch hunting knife in the waistband of his trousers."
The court was told a search of his vehicle uncovered an assortment of other weapons.
A search of his home at Finsbury Street, Middlesbrough, found the Downing Street postcode and the names of prominent political figures.
Last month he admitted possessing a prohibited weapon, three counts of possessing an offensive weapon, seven counts of having a bladed article, and dangerous driving.
Dr Pratish Thakkar, a consultant psychiatrist, diagnosed paranoid schizophrenia and said Naz posed a significant risk to others.
Peter Wishlade, defending, said: "Mr Naz, when he is taking his medication, is perfectly calm, rational, articulate and easy to talk to, but unfortunately when not, he is inclined to delusions and regrettably he has endeavoured to carry them out."