Middlesbrough town centre hit by power cut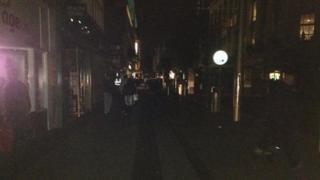 Thousands of homes and businesses in Middlesbrough were hit by a major power cut during stormy weather on Thursday.
The town centre, including the bus station, was plunged into darkness after a sub station flooded.
Earlier, High Tunstall College of Science in Hartlepool was closed when storm-force winds ripped away part of its roof.
In the Port Clarence area, the River Tees burst its banks leading to 300 homes being evacuated.
People taken to a local rest centre.
In Middlesbrough town centre, traffic lights were not operating and shoppers were forced to use mobile phones as torches to negotiate their way through the darkness.
At Redcar and Saltburn, police had to move people on as they gathered on the seafronts to watch the effects of the tidal surge.
'Severely disrupted'
Travel across Teesside and County Durham was severely disrupted throughout the day, with fallen trees and debris blocking roads and rail lines.
No-one was injured when the roof was torn off High Tunstall College of Science earlier.
Head teacher Mark Tilling said: "Part of the roof in our link building blew off this morning, but thankfully all children and staff are safe.
"We were left with no alternative but to send children home and everyone is working flat out to get the school back open as soon as possible.
"We suddenly heard a crash and the flat roof that joins the two blocks came straight off.
"We will not be opening the school on Friday because the weather conditions mean there is no way anyone can get up there to fix it.
"Unfortunately we have an old building which we don't have the money to repair, so our children will have to lose out on their education for a while."