Dave McLuckie found not guilty of witness intimidation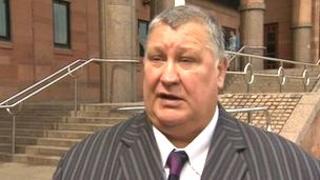 The former chairman of Cleveland Police Authority has been found not guilty of witness intimidation.
Dave McLuckie, 52, was accused of threatening a friend whom he believed had given evidence against him as part of a corruption investigation.
But the former Redcar and Cleveland councillor was cleared by a jury at Newcastle Crown Court earlier.
Peter Blyth, who was a regular driver for Mr McLuckie, told the court he had felt "uneasy" during their encounter.
'Horrendous year'
The jury also reached a not guilty verdict on an alternative charge of attempting to intimidate a witness.
Mr McLuckie said: "This has been a particularly horrendous year for me and my family. I'm glad it's over, on this occasion, and what I'll do now is go back home, have a night out with my family and have a good Christmas."
Mr McLuckie was convicted of perverting the course of justice in June after persuading a friend to take penalty points for him so could avoid a driving ban.
He said he visited Mr Blyth with unused material in relation to the trial but denied warning him "you don't know what I can do".
The document showed Nancy Ward, the widow of the friend who took the penalty points for Mr McLuckie, had spoken to police about Mr Blyth driving the defendant.
Mr McLuckie said he showed Mr Blyth the document to warn him the police knew he was operating as an unofficial taxi driver.
He is one of nine people still on bail as Operation Sacristy - a long-running inquiry into individuals linked to the police authority - continues.