Northern Echo editor Peter Barron appointed MBE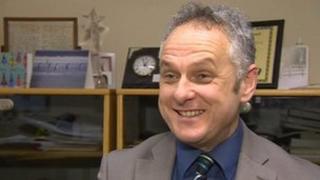 The editor of the Northern Echo is among those to be recognised in the Queen's New Year Honours list.
Peter Barron, 51, said he was "immensely proud" and "humbled" to be appointed MBE for services to journalism and the community.
Mr Barron has worked as a journalist for 35 years and edited the newspaper since 2001.
During his tenure, the paper has successfully campaigned to change legislation and build hospices.
The Law Reform Act, passed in 1996, abolished the "year-and-a-day rule" which meant attackers could not be charged with murder or manslaughter if their victims live longer than that after an assault before dying.
'Unthinkable honour'
Last year, the Echo was praised in the House of Commons for its efforts to bring train building back to the region after Hitachi announced it was to build a £70m factory in Newton Aycliffe.
Mr Barron, of Hurworth, Darlington, dedicated his honour to his parents.
"They brought me up and gave me the opportunities in life that I've had," he said.
"I grew up in South Bank, my dad worked at Lackenby steelworks and my mum was a post lady.
"The idea of being honoured by your country was unthinkable for me growing up in South Bank."
Others to be honoured include Kevin Nicholson, 25, and Peter Stemmer, 62. The men, both from Darlington, were awarded a British Empire Medal.
Mr Nicholson, the chairman of the Firthmoor and District Community Association, was recognised for services to the community.
Mr Stemmer, the Sub Postmaster at Mowden Park Post Office, was honoured for services to the Postal Service and the community.