Andrew Simon fire death: Paul Nash jailed for life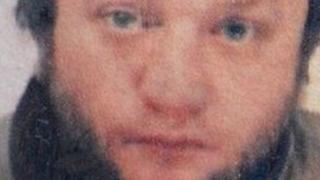 A Hartlepool man who killed a father-of-three by setting his house on fire has been jailed for life.
Paul Nash, 30, admitted manslaughter after starting the blaze at Andrew Simon's house in Dent Street in June.
Mr Simon, 44, was found upstairs in the house and later died in hospital from the effects of breathing in smoke.
Cleveland Police said he had mental health problems and his house was regularly used as a meeting place by drinkers and drug users.
"People went into that address and their sole reason for going in there was to take drugs and to drink alcohol and Andrew was vulnerable and exploited that way," Det Supt Peter McPhillips said.
Detectives believe Nash went to the house on 11 June but was turned away and that this could have been a motive for going back at around midnight and starting a fire on Mr Simon's sofa while he slept.
Nash was told by the judge at Teesside Crown Court he had taken advantage of a vulnerable individual who had showed him nothing but kindness.
He was told he must serve a minimum of 10 years.