New County Durham bariatric clinic for 'fat' authority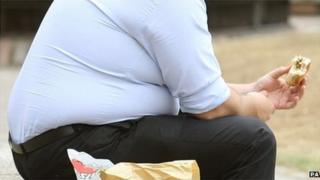 A clinic has been launched in County Durham after the area was named as one of the UK's top 10 "fattest local authorities".
The clinic, based in Chester-le-Street, is run by a team of obesity experts from County Durham and Darlington NHS Foundation Trust.
Patients referred by their GP will gain access to advice on healthy eating, exercise, and weight loss surgery.
Government figures say two out of three adults in the area are overweight.
Consultant surgeon Andy Gilliam said: "It might sound like back-to-basics stuff, but we're seeing more and more patients who don't own a pot or pan and rely solely on their microwave or local takeaway for every meal - it really is shocking."
He added: "We are seeing a huge increase in the number of patients looking to undergo bariatric surgery in County Durham."
It is hoped the service will expand in April to include workshops with dieticians, psychologists and physiotherapists.