Able UK giant crane to boost Seaton Port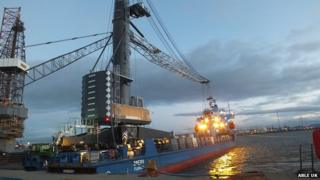 The arrival of what is described as the UK's largest harbour crane will create up to 40 jobs on Teesside, bosses say.
Able UK said that the structure would allow specialist work to be undertaken at Seaton Port, near Hartlepool.
The crane will lift cargo which includes components for the offshore wind sector. It will also be used for maintaining offshore oil and gas drilling rigs.
The company said the crane was capable of lifting up to 208 tonnes
The Leibherr LHM600SHL mobile crane, delivered from Rostock in Germany, has a 190ft (58m) radius with its hook height of 209ft (64m). The standard height is 147ft (45m).