Cleveland fire shake-up petition presented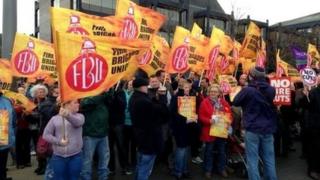 A 6,000-signature petition has been presented to the House of Commons in protest at plans to reorganise fire services on Teesside.
Cleveland Fire Brigade is facing a £6m budget cut with the Fire Brigades Union warning it will mean 130 of its almost 400 full-time posts being cut.
Campaigners claim the area is "high risk" as latest figures showed a 54% rise in fire calls last year.
They are calling for a rethink of the funding cut.
Middlesbrough South and East Cleveland Labour MP Tom Blenkinsop raised the issue in the Commons.
He said the petitioners believed it was unfair the government had "imposed funding reductions on a high risk area like Cleveland when low risk areas in the south of England have had their funding increased".
'Arson rise blip'
He said they opposed the planned closure of Marine fire station and the plans to cut firefighter numbers by about 25%.
Mr Blenkinsop also urged the government to protect frontline services and provide a funding settlement which considers deprivation and risk.
His call came as latest figures from the brigade showed the number of arsons dealt with by the brigade rose by almost 60% from 1,390 to 2,219 between April to December 2012 and the same period in 2013.
Chief fire officer Ian Hayton said: "Arson has been a long-standing problem on Teesside for a number of years now."
He said campaigns had been successful in bringing the figures down successively over 10 years and described the rise as an unfortunate "blip".
Cleveland Fire Authority has said in the past it does not want to cut services but had to make proposals to tackle the budget deficit.
Mr Hayton said: "I am absolutely confident that what we put in place and what we are proposing will maintain public safety on Teesside."