Middlesbrough's Newport Bridge images found after 80 years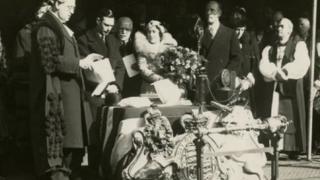 More than 100 images featuring the construction and opening ceremony of a Teesside bridge have been unearthed.
Middlesbrough's Newport crossing opened on 28 February 1934 and provided a new link between Durham and Yorkshire.
It was unveiled by the Duke and Duchess of York - later George VI and Queen Elizabeth - and was one of the UK's first vertical lift bridges.
The snaps were found in Middlesbrough Council's Teesside Archives and will feature in a new book.
The bridge, weighing 2,700 tonnes and which spans the River Tees, was built by Middlesbrough-based firm Dorman Long which had constructed the Sydney Harbour Bridge two years earlier.
Often overshadowed by its imposing neighbour the Transporter Bridge, the Newport crossing's use began to decline as river traffic on the Tees began to dwindle.
It was last lifted for ships in 1990, but is still used by thousands of vehicles every day.
Archives researcher Tosh Warwick said: "Over 100 photographs of the Tees Newport Bridge dating from the early 1930s showcase the landmark's development, from the construction of approach roads that saw the demolition of nearby housing towers to the structure's anchor span being lowered.
"Other images show iron and steel works and workers along the banks of the River Tees, the historic boundary between Durham and Yorkshire."
Many of the snaps were taken by Middlesbrough-based photography firm W. Haig Parry.
Ruth Hobbins, Teesside Archives manager, said: "Although the collection is not yet available to the public, we are working on digitisation and research of this material which also includes numerous structures across the globe."
The Tees Transporter Bridge Visitor Experience Project, where the pictures will be shown, is part of the £2.6m Heritage Lottery Fund scheme for the refurbishment and upgrade work to the Transporter Bridge.
The money is being spent on a new glass viewing lift to the 102-year-old Transporter Bridge's 160ft-high upper walkway, renovation work to the gondola, refurbishment of the visitor centre.
The latest photographs will also appear in a new book, the History of the Tees Newport Bridge: The First 80 Years, 1934-2014, a new book due by Middlesbrough Council marking the 80th anniversary.