Mark Bushnell search: Body identification may take days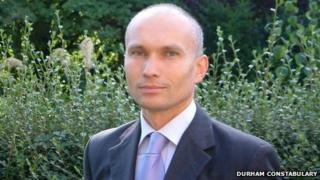 It could take days before a body washed up on a County Durham beach is formally identified, police have said.
The discovery, at Blackhall Rocks, near Peterlee, was in an area which had been the focus of an extensive search for a missing boarding school teacher.
Mark Bushnell left his home in Durham City on 9 March and his car was later found at a cliff-top car park.
Durham Police said the body had been in the water for some time, which meant identification was proving difficult.
Mr Bushnell's family has been informed of developments.
A post-mortem examination will be taking place on Monday.