Zetland Museum home for Redcar stranded whale jawbone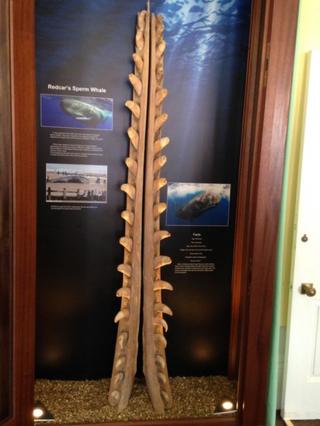 A jawbone from a sperm whale which beached at Redcar has gone on display in the town.
The 44ft (13m) mammal died after becoming stranded in 2011, with scores of people visiting the seafront to follow efforts to save it.
Redcar and Cleveland Council said it wanted to create a lasting reminder of the mammal's "sad demise".
The lower jawbone was unveiled during a ceremony at Zetland Lifeboat Museum, where it will remain on show.
Before going on display, the bone was buried in sand and peat to allow the oil and fat to drain away, then immersed in a solution of ammonia and hydrogen peroxide.
Councillor Olwyn Peters, cabinet member for culture, leisure and tourism, said: "It was always our intention to create a lasting reminder of the whale, and we are delighted to have found a home for the jawbone.
"The idea of using it as an attraction was a popular suggestion after the mammal's sad demise and I would encourage residents and visitors to visit the museum and take a look."
Zetland Lifeboat Museum also hosts what is believed to be one of the world's oldest surviving lifeboats.
Fred Brunskill, chairman of museum, said: "When the whale beached thousands of people came to Redcar seafront to see it.
"I would like to welcome them all back to see the jawbone on display."