Arsonists on Teesside 'as young as seven'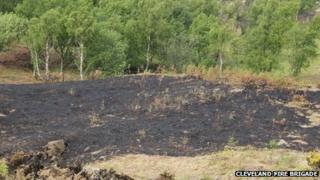 Children as young as seven are deliberately starting fires on Teesside, according to Cleveland Fire Brigade.
In 2013, the service dealt with 2,661 arson attacks, which accounted for seven out of every 10 fires.
It said at one time many were started by those in their early teens, but the age seemed to be dropping.
A crackdown has begun in the run up to the Easter holidays, when incidents usually rise.
Phil Lancaster from Cleveland Fire Brigade, said: "It is mainly children that are the culprits. Previously we used to see people in their early teens starting these sorts of fires, now we're now seeing children as young as seven our eight doing so.
"We want to say to those people that think it's a good thing to do, is that we are out there with the police. We are going to catch you, and you will be prosecuted."