Loss-making steel plant SSI 'hopes' to turn business around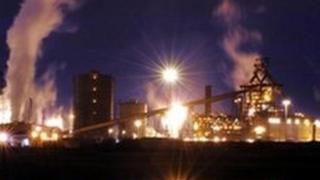 Bosses at a loss-making steel plant have urged workers to "keep the faith" two years after it reopened.
The former Corus site produced its first slab of steel under its new owner SSI in 2012 two years after it was mothballed.
Multi union chairman Paul Warren said times had been difficult but the plant should make a profit by the summer.
Cornelius Louwrens, the chief operating officer, said the plant had "used up its bad luck".
Many of the 1,600 workforce who lost their jobs when the plant closed were re-employed by Thailand-based SSI.
At full capacity the plant produces up to 400 slabs of steel a day, each weighing up to 33 tonnes.
'Strong resolve'
Mr Louwrens said £1bn had been invested in the plant which has been hit by delays and the rise in the price of steel.
"It has been a really hard journey and I feel we have used up our bad luck with cash problems and delays.
"It has been tough but our resolve to make a profit is strong," he said.
Mr Warren said he hoped the plant would make a profits within months.
"We are still building the foundations of the business, but we are heading in the right direction", he said.
"Steelmaking was passed to us by our forefathers and we share everyone's concerns - we need to get up our level of productivity - I have no doubt we will do that."
He added: "We have a long way to go but we are in for the long-haul and must keep the faith.
"We have the workforce bond and are hopeful of making a profit soon and will not run away."