Man fined over insect infestation at The Food Weighouse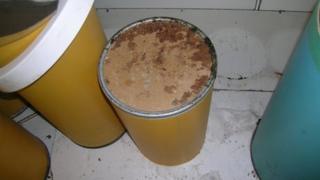 A businessman must pay more than £8,000 after an "insect infestation" was discovered in his Teesside food shop.
Australian spider beetles, Indian meal moths and casings from hide or leather beetles were found at The Food Weighouse in High Street, Redcar.
Authorities were alerted after a shopper came across live and dead insects in a bag of muesli.
Derek Wadsworth, 46, of Gypsy Lane, Nunthorpe, was fined £5,000 with £3,564 costs and a £120 surcharge.
Janine Morgan, a senior legal officer for Redcar & Cleveland Borough Council, told Teesside Magistrates' Court: "Many insects, of different life stages including larvae, nymphs and adults, were found, which indicated an established infestation.
"Insects were present on the floor surfaces, particularly around the food containers.
"Insects were also in high-risk areas, inside food containers and on food items."
Other breaches included a lack of routine cleaning of structures and equipment as well as the use of food containers that were damaged or worn and unable to be cleaned.
Council inspectors visited the shop in July last year.
Paul Watson, mitigating, said it was a case of potential risk rather than actual injury.
He added Wadsworth had experienced financial difficulties and had been operating "a failing business" with unmotivated staff.
Wadsworth pleaded guilty to six offences under food hygiene regulations and one under the Food Safety Act.