Auckland Castle's £17m museum plan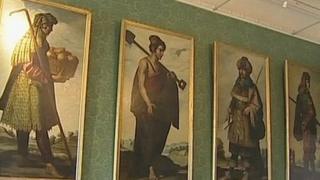 A castle which is home to 250-year-old paintings is to be revamped to include a £17m museum.
The new annexe at Auckland Castle in Bishop Auckland will chart the history of the British Isles through objects of faith and religion.
Auckland Castle Trust, which owns the former Bishop's home, said it hoped the revamp would attract 130,000 visitors a year.
Building work is due to begin in 2015 and will take three years.
The castle's current biggest attractions are the religious paintings by Spanish artist Francisco Zurbaran, which have hung in the castle for 250 years.
The castle's chief executive, David Ronn, said: "This is an ancient site and a building dating back 1,000 years.
"To incorporate any addition into such a setting is both architecturally and historically challenging, but we are creating something extremely special here at Auckland Castle."