Greatham Creek flood defence repairs completed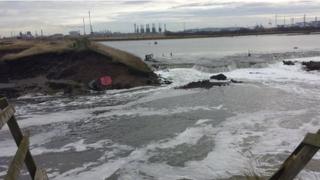 Work to repair flood defences that were damaged in one of England's highest tidal surges has been completed.
A flood bank at Greatham Creek, near Hartlepool, was "significantly damaged" on 5 December by high tides which resulted in "extensive flooding".
Steel sheet piles and rock have now been installed to prevent water seeping through and future erosion.
The creek is home to various wildlife, including a seal colony and several species of bird.
An Environment Agency team built a 656ft (200m) raised road to allow them to build temporary flood defences to hold impending high tides while they worked on a permanent fix.
The preparation work had to be completed before they breached the bank and the team also had to ensure that the breeding seal colony at Greatham Creek was not disturbed.
A footpath and fencing on top of the bank have also been reinstated to provide public access to the various wildlife hides and sites by the creek.
Project manager Andrew Gee, said: "Fixing the bank was a challenge because initially we couldn't access the bank with our vehicles.
"We also wanted to ensure that wildlife wasn't unnecessarily affected, so once the temporary repair was completed, we continually monitored water levels in the intertidal ponds that provide a habitat for so many species.
"It is great to see that avocets [a type of wading bird] have now returned to the islands."