Mark Denton 'savagely attacked' 17 times with camping axe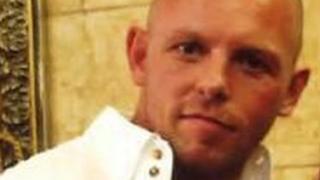 A boxer died after being "savagely attacked" 17 times with a camping axe in Hartlepool, a court has heard.
Mark Denton, 31, died in hospital after being attacked at a New Year's Eve party at a house in Hutton Avenue.
Teesside Crown Court heard how he was allegedly set upon by David Sowerby, 23 and Anthony Middleton, 21.
Mr Sowerby struck him in the head, neck and upper body when he arrived, with one of the blows so forceful the axe lodged into his skull, the court heard.
Mr Denton suffered more than 50 blows, 17 of which were from the axe, in what was described as a "cowardly and unprovoked" attack.
The court heard the pair then fled the scene and were described as "buzzing", with Mr Sowerby overheard saying "I told you I would use the axe."
The court heard how the two men washed and burnt their clothes and disposed of the axe on wasteland, before handing themselves in to the police the next day.
Jamie Hill QC, prosecuting, said: "Rather than being stabbed, he had been repeatedly struck about the head and body with an axe... despite the best endeavours of the emergency services he was dead within the hour."
Mr Denton was a promising middleweight when he was younger and was well known in the local boxing community.
A few months earlier, Mr Denton had met the half-brothers, who both deny murder, at a party.
An argument had developed over a girl which ended up outside, where Mr Sowerby said he would shoot Mr Denton with a shotgun, the court heard.
Mr Denton ended up punching Mr Sowerby to the ground and the prosecution said this left him "wanting revenge".
The trial continues.