Queen's Birthday Honours for Teesside campaigners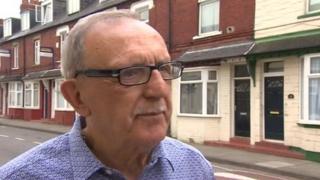 A campaigner for older people is among those from the Teesside area recognised in the Queen's Birthday Honours list.
Leslie Fawcett, 75, from Middlesbrough, has been appointed MBE in recognition of work which has included launching the Message in a Bottle scheme.
It sees people write down their medical details which they put inside a bottle and then store in their fridge.
A sticker alerts emergency services, and health chiefs said it was "a simple way to save lives".
Since 2007, more than 50,000 bottles have been distributed.
'Gas bill'
Mr Fawcett, a member of Middlesbrough Council's Older Person's Partnership and chairman of the town's Senior Citizens' Forum, has also helped with renovation projects at St Aiden's Community Church.
He said: "It was a shock to me.
"I received two envelopes in the post. The first was a gas bill so I thought, 'That's not a good start to the day,' but then the second was a letter saying I was being considered for an MBE.
"Working with other volunteers, we've done a lot for older people in Middlesbrough. It's about trying to improve their quality of life. We don't want them to be forgotten."
Other Teesside people appointed MBEs are Peggy Allen, 93, of Hartlepool, for services to Seaton Carew, and Peter Stubbs, 72, of Barnard Castle, for voluntary services to policing.