Tuxedo Royale: Refurb plan for former floating nightclub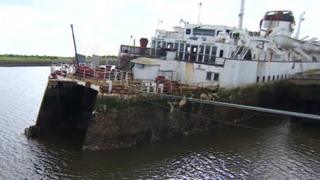 A campaign has been launched to refurbish a former floating nightclub and turn it into a training centre for young shipbuilding engineers.
The Tuxedo Royale, which ceased operating in 2006, has been rusting and gradually sinking in the River Tees where it is berthed.
Now businessman Terry Owens is leading a campaign to restore the vessel, and plans to apply for lottery funding.
Around £250,000 is needed to move it to a dry dock elsewhere on the river.
Mr Owens said his plan is backed by Middlesbrough Council, Middlesbrough College and the Prince's Trust.
In its heyday, thousands of people partied aboard the boat and its sister vessel, the Tuxedo Princess, when they were berthed on Gateshead Quays.
'Potential hazard'
The Tuxedo Royale closed in 2006 and owners Absolute Leisure went into administration three years later.
After receivers decided they did not want the boat, dismantling company Able UK agreed to provide a temporary home in Middlesbrough.
Since then, it has been subjected to vandalism and is listing badly.
Able UK's Neil Etherington said in its current state the boat was a "potential hazard" and called for it to be moved.
He said: "We've lost about £750,000 of rent because this is a commercially viable quay and it's stuck with something that's not paying anything.
"In terms of reputation and in terms of Middlesbrough, this is not doing the town any good.
"Everybody wants shot of it, but no-one is prepared to put their hands in their pockets to do that."