Hartlepool's Tunstall Court: Bid to stall demolition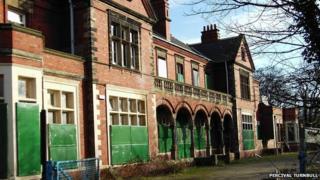 Campaigners hoping to stall the demolition of an historic building in Hartlepool have set up a petition.
Tunstall Court, built in 1895, was home to shipbuilder and MP Christopher Furness, and later became a school before the council sold it in 2005.
Now empty, it has been subject to arson and vandal attacks and is due to be demolished and replaced by new housing.
The petition, at Change.org, calls for it to be restored to "preserve Hartlepool's proud Victorian legacy".
Tunstall Court is now a shell, and Cleveland Fire Brigade said that at one point in 2013 it was called out to two arson attacks on it every month.
The council has now given permission for it to be torn down and 14 new homes built on the site.
'Sad end'
Local councillor Ray Wells said: "It's all well and good saying 'we have to look after heritage sites for future generations'.
"But it's no good if it's making the current generation's lives an absolute misery - and that's what this building has done.
"I maintain that not one person who's been affected by it on a day to day basis has said 'would you please ensure this building is kept up?'
"On the contrary, I've had dozens upon dozens of phone calls saying 'can you please sort this problem out?'"
However, James Hughes from the Victorian Society said it would be a "very sad end".
"We are not saying that the entire building should be restored and retained. We are not unrealistic," he said.
"But there is always room for compromise. Part of the exterior could be retained and incorporated into a new building."