Middlesbrough Council's £4.5m swing bridge gets go ahead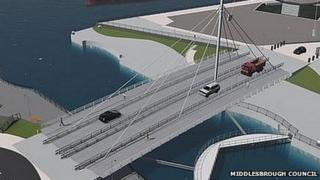 Plans have been approved for a £4.5m swing bridge to cross part of the River Tees in Middlesbrough.
The vehicle and pedestrian bridge will be built at the entrance to Middlehaven Dock, Middlesbrough Council said.
More than £150m is already being invested in Middlehaven, with housing, leisure and business developments in progress.
Building work is likely to begin in the spring of 2015 and take 12 months to complete.
Deputy mayor councillor Dave Bud said: "We opted for the swing bridge, which is slightly more expensive and slightly more expensive to maintain and run, but it gives us extra options for entrance into what could be a really exciting development in Middlehaven Dock itself."
The scheme was approved earlier at a meeting of the council's executive committee.