Binchester Roman Town: Auckland Castle Trust's £2m bid accepted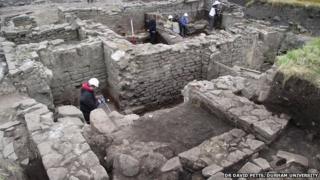 A Roman dig site in County Durham, described as "the Pompeii of the North", is to be sold to a trust which has pledged to safeguard its future.
Binchester Roman Town, on the outskirts of Bishop Auckland, was put on the market by the group managing the Church of England's property portfolio.
Auckland Castle Trust's £2m bid has been accepted.
The site has seen numerous discoveries including a bath house and an altar dedicated to a Roman goddess.
Dr Chris Ferguson, Auckland Castle's head curator said: "The importance of Binchester cannot be over-stated.
"Our first priorities are to secure the site for the winter, work with Durham County Council and English Heritage to help shape Binchester's future and to start pulling together plans to ensure the Roman remains continue to be available for archaeologists and the public to enjoy for generations to come.
"We are also keen to see the fort developed sympathetically as a tourist destination for the benefit of Bishop Auckland."
The trust - created in 2012 to protect Auckland Castle - had feared the plots could be bought by developers who would restrict public access or limit archaeological digs.
Among the items found there was a 3rd Century silver ring believed to be "one of the earliest pieces of evidence for Christianity in Roman Britain".
A spokesman for the Church Commissioners said: "The bid from the trust was considered to be the best offer when full considerations had been made as part of the sale process."