Judge George Moorhouse: Call for probe into 'lenient' terms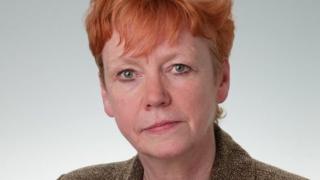 Three crime commissioners claim a Teesside judge who spared a domestic abuser jail should be investigated for misconduct.
Judge George Moorhouse sentenced Anthony Bruce to 12 months suspended for a year for assaulting his wife.
The North East's three crime commissioners have complained to the Judicial Conduct and Investigations Office (JCIO).
The JCIO said it could only investigate the judge's conduct, not his sentence.
Speaking to BBC Tees' Neil Green, Northumberland police and crime commissioner Vera Baird, who has written to the JCIO along with Cleveland and Durham commissioners Barry Coppinger and Ron Hogg, said the sentence was unfair to all victims of domestic abuse.
She said it failed to take into account the sentencing guidelines for domestic abuse.
The BBC attempted to contact Judge Moorhouse but he has made no comment.
Terrorised wife
The commissioner said: "There are very clear guidelines saying in a case with domestic abuse it should be taken more seriously.
"At what stage does a judge who disregards these clear guidelines become a case of misconduct?"
Teesside Crown Court last week heard how Bruce, 34, terrorised his wife by biting and throttling her, held a knife to her throat and shot her in the toe with a pellet.
After he was arrested, Bruce, from Chester-le-Street, phoned his victim warning her not to give evidence.
He pleaded guilty to witness intimidation as well as assault occasioning actual bodily harm.
Ms Baird said people had now contacted her about at least four other cases where Judge Moorhouse is alleged to have given suspended sentences to perpetrators of domestic abuse in the past year.
"This sentence sends out the totally wrong message to victims of this crime," she added.
"We have worked hard to help protect women and girls who are affected by domestic violence and abuse - we are let down by the courts with lenient sentences like this."