Hobbit house camp gets £10,000 from Redcar council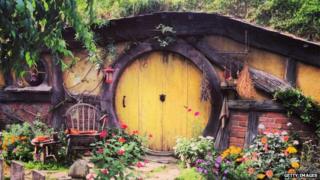 Underground hobbit houses at a campsite are to receive funding from a local authority.
Carol Hopkinson and Karl Wragg have received £10,000 from Redcar and Cleveland Council's Coastal Communities Fund for the first of seven hobbit houses at their Liverton campsite.
The Middle Earth themed accommodation will cost £200,000 to build.
Grants of up to £10,000 are available through the fund.
Each hobbit house will have two bedrooms, a lounge, cooking facilities and a wood burning stove.
Additional funding comes from National Parks and Teesside charity Five Lamps, and the facility will be made available to organisations like the children's hospice Zoe's Place.
Other awards from the Coastal Communities Fund include £7,000 for two apprenticeships at Cleveland Ironstone Mining Museum and £9,500 for housing charity Coatham House to open a cafe and shop in Redcar.