Hartlepool mayor Stephen Akers-Belcher removal attempt fails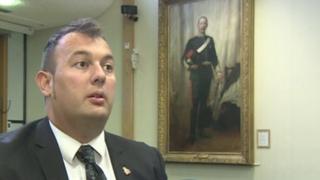 Councillors' attempts to force Hartlepool's mayor to temporarily stand down have failed.
Five councillors brought a motion asking Stephen Akers-Belcher to take leave of absence over his legal action over dismissal from another council.
The opposition councillors said it was undermining confidence in him and the Labour-run council's reputation.
Mr Akers-Belcher, a Labour councillor, said the motion was part of a "very personal" campaign against him.
He claims he was sacked as care manager for Newcastle City Council because he acted as whistleblower, raising concerns over how vulnerable adults in the city were being cared for.
'Horrible things'
The city council "strongly denies" this but would not comment further while the matter was "subject to the council's internal disciplinary process".
It refused to confirm whether it is still investigating Mr Akers-Blecher's claims of poor care.
A Hartlepool Borough Council spokesman said: "This is a personal matter which does not affect his ability to be ceremonial mayor or a councillor."
Mr Akers-Belcher said he would "get on and work hard for the people of Hartlepool".
"I will do that despite all the upheaval and all the unnecessary horrible things which have been said about me," he said.
The motion at a public meeting on Monday was defeated 19-11.
The council has 19 Labour councillors, three Conservative, four Independent, five Putting Hartlepool First and 2 UKIP.