John 'Husky' Petch: Redcar man evicted after two-year fight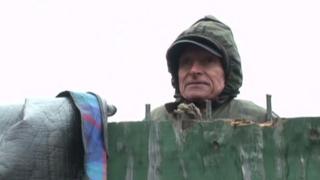 A 66-year-old man has been evicted from a Redcar building following a two-year fight with his council.
John Petch - known locally as Husky - had been living in the former council depot on The Green, Dormanstown where he keeps a lifetime collection of machinery, engines and farm vehicles.
Redcar and Cleveland Council said the building was unsafe and they had given him two years to find an alternative.
Mr Petch said the bailiffs who arrived at 05:00 GMT were "bully boys".
Redcar and Cleveland council leader George Dunning said "significant efforts" had been made to resolve the situation amicably and the eviction was a "last resort".
The council said Mr Petch had a local housing association house nearby, but had been living on the site and refusing to move.
"It is neither feasible nor appropriate for the council to accommodate Mr Petch and his collection of possessions indefinitely at public expense," Mr Dunning added.