Saltburn sea water cleaned up in £5m scheme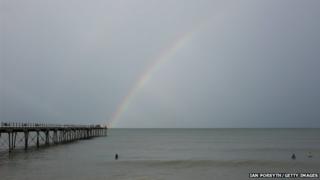 Five million pounds is to be spent improving the quality of bathing water on the Teesside coast.
The programme to clean up the sea at Saltburn will involve upgrading the sewer network in Guisborough, Tocketts Bridge and Dunsdale.
The aim is to "significantly reduce" the number and size of spillages from sewers into water courses during heavy rainfall, Northumbrian Water said.
Tighter bathing water standards are to be introduced in 2015.
Operations director Graham Neave said there were "many sources of pollution which impact on Saltburn's bathing water quality" including animal farming and private sewage treatment works.
Matters had already been improved by stopping the flow of polluted water from abandoned ironstone mines, the Environment Agency said.
An underground storm water storage tank will be built at the former Guisborough sewage treatment works and capacity increased to pump more water to Marske when it rains.
It will then be treated and disinfected with ultra violet light before being discharged into the sea rather than Skelton Beck.