No return for Hartlepool hospital services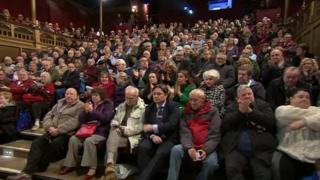 Hospital services will not return to Hartlepool despite the shelving of a new £300m facility, health bosses have confirmed.
About 300 people met with North Tees and Hartlepool NHS Foundation Trust on Monday to discuss healthcare provision.
Speakers said they wanted services previously moved to Stockton to be brought back after plans for a super hospital in Wynyard were postponed.
But NHS chiefs said it would be unsafe to do so owing to staffing shortages.
One man said: "We were promised a super hospital at Wynyard, it's not going to materialise so we want what we had back."
Trust Chief Executive Alan Foster said he was listening to criticism but also urged residents to listen to the trust.
'No confidence'
"Doctors are trying to provide the safest, best quality they can," he said.
"Unfortunately, we cannot bring services back that have already been centralised because they have been done so for clinical safety reasons."
The accident and emergency department at University Hospital of Hartlepool closed in 2011, consultant-led maternity care was moved to Stockton in 2008 and the intensive care unit moved in 2013.
Mr Foster said bringing them back to Hartlepool would not necessarily improve health outcomes for patients.
"It's no good taking people somewhere closer if we haven't got the people or facilities to treat them," he said.
All 30 of Hartlepool's borough councillors agreed a vote of no confidence in the trust and will write a letter to health secretary Jeremy Hunt asking him to investigate.
Speakers at the meeting in Hartlepool's Town Hall Theatre also called on Mr Foster to resign, but he said he would continue trying to improve services for the area.