Teesport rail terminal up and running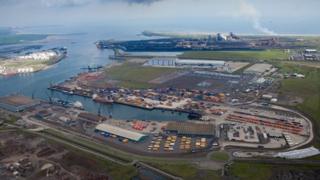 A new £3m rail terminal at a port in Teesside has now opened, its operator said.
The investment means Teesport, near Middlesbrough, is now connected to Southampton and Felixstowe, Suffolk, with links to other parts of the UK expected to follow.
PD Ports said it hoped the extra connectivity would attract businesses to the region and boost the economy.
The new terminal follows a £16.7m expansion at the site in 2011.
David Robinson, PD Ports' group chief executive, said: "There has been a significant amount of press coverage lately centred round a better-connected North.
"Our facility at Teesport has the potential to further attract logistics activity to sites with efficient low-cost transport networks and we will continue to work hard to see this come to fruition."