Peter Maine Durham stab death 'a mystery'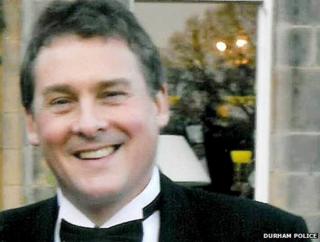 Mystery still surrounds the death of a solicitor on a Durham riverside path, an inquest has heard.
Peter Maine, was found near Maiden Castle Sports Centre in September 2013 with multiple stab wounds.
The 56-year-old from Wynyard, Stockton, had been interviewed by the police over fraud allegations.
The inquest heard it was not clear whether he inflicted the injuries himself or had been attacked. Coroner Andrew Tweddle gave an open verdict.
There were "too many uncertainties" in the case, Mr Tweddle said.
The hearing, in Crook, heard that on the morning of his death Mr Maine was spotted on CCTV jogging from his former office site in the city centre to the river bank, where his body was later found.
He had three stab wounds, two of which had pierced his heart. None had been inflicted by any of the six knives later recovered from the area.
Mr Maine still had his Rolex watch and wallet with him, so robbery was ruled out as a motive.
The inquest heard that two days before he learned he was due to appear in court but his family and friends said he did not seem distressed.