Darlington man 'set fire to partner' in drunken row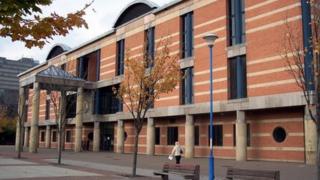 A man poured petrol over his partner, set her alight, and then locked her inside the room, a court has heard.
Rebecca Major escaped by smashing a window and jumping out, but suffered 40% burns and fractures during the incident in Darlington in August.
Teesside Crown Court heard it followed a drunken row, in which she was told she would be "taught a lesson".
Edward McArthur, 40 and from Geneva Road, Darlington, pleaded not guilty to attempted murder and arson.
Christine Egerton, prosecuting, said the couple, who had been together a year, had been drinking, a row developed, and Mr McArthur lost his temper.
He left the room, then returned with a container of petrol and doused Ms Major, 32.
'To shock her'
Miss Egerton said: "At that stage, she thought that was all he was going to do.
"She thought he was doing that, pouring that caustic substance on her, to shock her and that would be it.
"However, the next thing he did was to light it. He ran out of the door and locked her in the flat.
"She shouted after him thinking that he would come back and help her. He didn't."
The trial continues.