Middlesbrough park tribute to Captain James Cook under way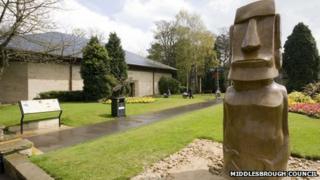 Work is starting on a tribute to a famous Middlesbrough explorer to be built at his birthplace.
A statue of Captain James Cook is planned for Stewart Park, home to the Captain Cook Birthplace Museum.
It is hoped a £25,000 council contribution to the £160,000 cost will attract further investment from bodies including the Heritage Lottery Fund.
Friends of Stewart Park chairman Tom Mawston said the statue was "long overdue".
"We are now exploring funding opportunities, including a possible bid to the Heritage Lottery Fund which has already been instrumental in helping to transform the park into a fantastic amenity for the people of Middlesbrough and beyond.
"We're also keen to hear from anyone who would like get involved, either by making a donation to the fund or offering their knowledge and expertise to the project."
A £9m revamp of the park, part funded by the Heritage Lottery Fund and Big Lottery Fund under the Parks for People scheme, includes a new play area with play ship based on Cook's Endeavour and a map of the 18th Century explorer's voyages.