Darlington woman jailed for forging husband's will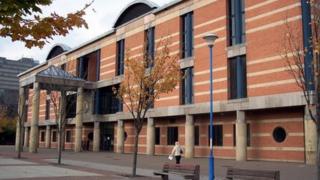 A woman who faked her husband's will to make herself the sole beneficiary of his £1m estate has been jailed.
Dawn Smith, a solicitor's secretary, admitted forging the document which disinherited Harvey Smith's two adult daughters from a previous marriage.
Following the Darlington businessman's death in 2012, she went on to marry a waiter in Turkey and is now pregnant.
The 47-year-old, of Carmel Road North, Darlington, was handed a 21-month term by the judge at Teesside Crown Court.
The court was told Smith drew up the false will in 2010, forging her husband's signature and those of witnesses.
After his death she travelled to Turkey on a regular basis, selling family heirlooms to fund the trips.
'Great distress'
Judge Walford questioned the timing of her 18-week pregnancy.
He said: "There must be a suspicion, to put it no higher, that she has deliberately become pregnant in order to gain an advantage in the sentencing process."
He added: "But in my judgement to do anything other than pass an immediate custodial sentence would be an affront to your step-daughters who you so cruelly deceived by your actions."
Speaking after sentencing, one of Harvey Smith's daughters, Karen Harwood, said: "Dawn Smith's criminal activity have caused great distress to me and my family.
"Through her actions, my father's last wishes and intentions have been lost forever, and will never be truly known."