Hartlepool A689 lorry drag teenager had 'lucky escape'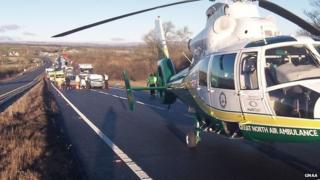 A teenage boy who was hit by a lorry and dragged along for 50m is "incredibly lucky" that he was not more seriously hurt, his rescuers said.
The 15-year-old was struck by an HGV on the A689 westbound at the junction of Greatham High Street, near Hartlepool.
He had to be freed from under the lorry and airlifted to hospital with head and abdominal injuries.
Stuart Thompson, of the Great North Air Ambulance, said the boy was lucky he was not more badly hurt.
The boy was airlifted to James Cook Hospital from the busy stretch of road and his condition has been described as stable.
Mr Thompson said: "We arrived on scene and the boy was still stuck underneath the vehicle.
"We worked with the ambulance service paramedics to get him out of there. He had sustained head and abdominal injuries, so the treatment on the roadside was all about protecting his head, back and pelvis.
"Considering what had happened and the scene as we initially found it, it is remarkable that he was not more seriously injured. He has been incredibly lucky."