Middlesbrough transporter bridge revamp hit by further problems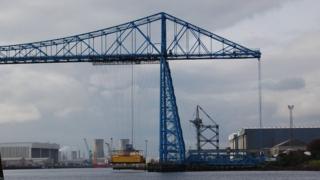 The revamp of Middlesbrough's Transporter Bridge has been hit by more technical problems, further delaying any reopening.
The 104-year-old listed structure closed in August 2013 for a planned refurbishment which was supposed to last eight months.
But a string of "unforeseen" problems has resulted in a date for reopening being repeatedly put back.
Middlesbrough Council said the latest issues involved electrical wiring.
'Rust damage'
The authority has apologised for the continuing delays with the £4m project.
A spokesman said: "I'm afraid we don't have a date as yet for when the bridge will reopen.
"We're hoping we might be able to make an announcement in the next few weeks.
"The latest problems have been with the electrical wiring and we've also encountered more rust damage than we envisaged. But we're hopeful this won't hold things up too long."
As well as the refurbishment of the bridge, a new lift and visitor centre have also been built.
A replacement bus service between Middlesbrough and Port Clarence will remain in operation during the closure.