Stanhope flood defences 'safeguard 100 homes'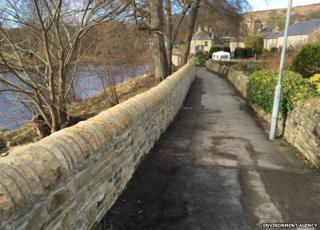 Flood defences have been upgraded in a County Durham town.
The Environment Agency (EA) has completed a £250,000 project to reduce the risk of flooding from the River Wear in Stanhope.
The raising and improving of existing defences would help prevent about 100 homes being damaged, the EA said.
Assistant project manager Duncan Harrison said the work also meant the agency could issue more accurate flood warnings and alerts in the future.
Stanhope has had several floods in the past two decades. In January 1995, 21 properties were flooded following heavy rain.