UKIP Stockton candidate sings Abba to mock PM and MP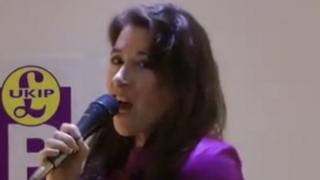 A UK Independence Party general election candidate has rewritten a hit by Swedish pop stars Abba to mock David Cameron and the MP she is challenging.
Mandy Boylett, 50, sings along to a backing track of Chiquitita in the YouTube video, wearing a dress in her party's colour purple.
She claims Mr Cameron is "in love with the EU" and says Stockton North Labour MP Alex Cunningham will soon be crying.
Mr Cunningham said he would not waste time listening to her "silly songs".
"What I want to do is see her on a platform somewhere where we can discuss policy," he said.
"When we get to that point, she will see that maybe she should stick to writing songs rather than standing in a general election."
'Replace Agnetha'
Mrs Boylett, who studied statistics at Bath University and is a pilates instructor and aerobics teacher, almost breaks into a dance as the song picks up.
It is not the first time the mother of two has sung Abba on YouTube.
Eight years ago she uploaded a straight version of The Winner Takes It All showing her "fulfilling her desire to replace Agnetha in the super group".
Mr Cunningham, who won with a majority of 6,676 over the Conservatives in 2010, said he had not watched the latest production.
Stockton North Conservative candidate Chris Daniels said the "stunt" showed UKIP "cannot be trusted to form a sensible, credible, alternative government".
Number 10 has yet to comment.
Another song performed in support of UKIP, sung with a mock Caribbean accent by former BBC Radio 1 DJ Mike Read, was withdrawn from sale in October following complaints it was racist.
Read apologised that the song "unintentionally caused offence".
---
The new words to Chiquitita
David Cameron, tell me what's wrong?
Your MPs don't really want you
In their eyes
You're still in love with the EU
Oh that 1.7 billion
There is no way you won't pay it
I can see that you think that we won't notice
David Cameron, tell me the truth
Cos you can't keep on deceiving
Your MPs
They will really keep on leaving
You were always sure of yourself
Now I see you've lost your direction
Saying, yes Angela, will lose you the election.
Alex Cunningham, you and I know
How elections come and they go but this time you're leaving
You'll lose your safe Labour seat
To the UKIP girl
You will have no time for grieving
Alex Cunningham you're gonna cry
Because Stockton North is turning purple around you
Over 30 years neglect will come to an end
And we'll celebrate the purple
Thirty years will come to an end
And we'll celebrate the purple
So the walls came tumbling down
Your campaign's a blown out candle
All is gone and it seems too hard to handle
Alex Cunningham tell me the truth
There is no way you can deny it
With yet another smear to try to keep me quiet