Darlington police stage 'dead drunk' pedestrian crash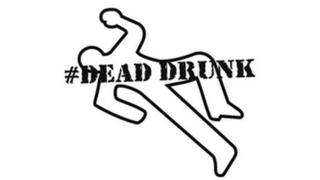 Police in Darlington are staging a mock crash involving a vehicle and a "drunk" pedestrian.
The event is part of the "dead drunk" campaign aimed at warning revellers of one of the dangers of drinking.
Between 2011 and 2013 in the Durham force area, eight pedestrians killed in road accidents were found to have had judgement "impaired by alcohol", and it was also a factor in 63 injuries.
Bars in the town are using beer mats carrying the campaign logo.
Officers from the Cleveland and Durham Specialist Operations Unit, firefighters, staff from North East Council on Addictions, and the ambulance service will be taking part in the event.