Eston Hills fires: Second blaze at Teesside beauty spot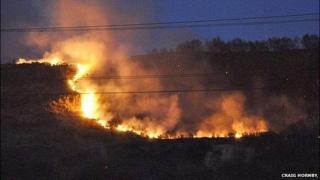 Suspected child arsonists have targeted a Teesside beauty spot for the second time in as many days.
Firefighters tackled a blaze on Eston Hills in East Cleveland earlier.
A fire broken out at the spot on Sunday, which took four hours to put out. A number of youths were reported to be in the area at the time, police said.
Cleveland Police urged parents to get in touch if their children came home with their clothes smelling of smoke.
"We are aware that Eston Hills are again on fire and this is being dealt with," a spokesman said.
"We are appealing to parents whose children may come home or have come home smelling of smoke, we need to stop this before any more damage is done or someone is injured."
In recent years, Cleveland Fire Brigade has reported a big rise in the number of deliberate grass fire in the Eston Hills area.