Auckland Castle museum plan: Visitor centre approved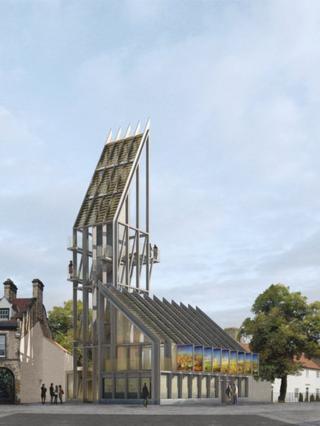 The first stage of a multimillion-pound project to transform the former home of the Bishops of Durham has been approved by planners.
A £2.5m Welcome Centre, featuring a 95ft (29m) tower, to be built in the centre of Bishop Auckland, has been backed by Durham County Council.
It will be the gateway to a proposed £17m museum at Auckland Castle - home to the Bishops of Durham for 800 years.
A year-long construction programme is due to begin in August.
Auckland Castle Trust, which owns the building, said it hoped the museum redevelopment would attract 130,000 visitors a year.
Building work is due to begin later this year subject to further planning approval and is due to take about three years.
The castle's current biggest attractions are the Zurbaran paintings, which have hung in the castle for 250 years.
The trust's project manager Simon Davis, said: "It's the first piece in the jigsaw of what is an ambitious three-year development plan for Auckland Castle.
"Getting the go-ahead for the Welcome Building adds to the sense that Bishop Auckland's time is coming again."