Stockton regeneration marked by huge eagle and giant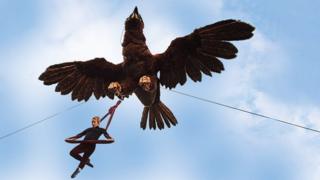 The completion of a Teesside town centre's £38m regeneration has been marked by street theatre involving a giant and a huge eagle.
Work on Stockton High Street, which has taken over two years, includes new road layouts, increased parking, removal of dead trees and repainting.
A water feature with plants and seats was officially unveiled.
Stockton Council Labour leader Bob Cook said the work had created a "modern and welcoming environment".
Spanish theatre company Carros de Foc constructed the 11m (36ft) giant and 8m (26ft) wide eagle on the high street on Thursday.