Fisherman swept into sea off Redcar saved quickly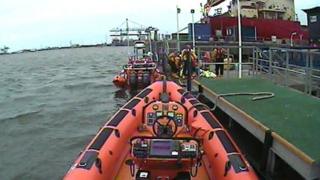 A fisherman washed into the sea and knocked unconscious was rescued quickly because RNLI volunteers were on a nearby training exercise.
The RNLI said the rescue was "difficult" and the man could have been dashed against rocks and killed in the rough seas off South Gare, Redcar.
The alarm was raised on Saturday afternoon when the man went into the the water at the breakwater.
RNLI volunteer teams were close to the scene and quickly found him.
The teams from Hartlepool and Redcar took the man to the Harbour Master's landing at Tees Dock where he was transferred to a waiting ambulance.
Dave Cocks, lifeboat operations manager at Redcar RNLI, said: "We were at the point of some very high tides and there were strong winds. The crews reported seas up to four metres in height.
"The North Sea is at its coldest about now, and he could easily have been badly injured or killed..."