Teesside £19m flood defences scheme under way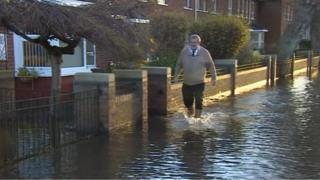 A £19m scheme to improve flood defences for hundreds of homes and businesses on Teesside is under way.
Flood walls and embankments will be installed to protect 350 homes and 32 businesses affected by severe flooding.
The first phase, costing £3m, will be carried out in Port Clarence, which was hit in December 2013 by devastating floods and the highest tide recorded in the area for 150 years.
The work is expected to be completed by the end of the year.
Local business Wilton Engineering Services will manufacture part of the flood defences.
Wilton's chief executive, Bill Scott, said: "We have formed a partnership with the Environment Agency to ensure this project is a successful one and one which benefits everyone here.
"Having been through the recent flood which impacted on our business we've learned first hand the importance of protecting our assets, our people and the community, so this project is close to our hearts and we are therefore determined to ensure its success."
The second phase of the project will focus on reducing the risk of flooding to Greatham South from Greatham Creek and is expected to begin next year.