Dead horse left lying in Wheatley Hill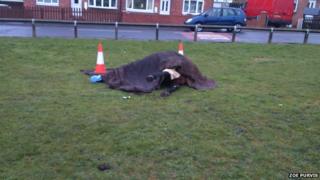 A horse that collapsed and died on a village green was left there for more than 24 hours, it is claimed.
The animal was tethered on the green in Wheatley Hill, near Peterlee, County Durham, when it died on Wednesday morning.
Zoe Purvis, who lives in the village, said children from a nearby Sure Start children's centre had been upset by the sight.
Durham County Council said it had taken time to arrange for it to be removed.
'Starting to smell'
Mrs Purvis said despite being covered with a blanket its legs could still be seen.
She said she had to walk past the dead animal a number of times with her children, who had been left upset.
"I am absolutely shocked and disgusted. I don't think it's acceptable," she said.
"I can't believe it. The council should have taken it away, or someone should have taken it away rather than it just sitting there."
The horse was removed on Thursday morning after, Mrs Purvis said, "starting to smell".
Durham County Council neighbourhood protection manager Ian Hoult said: "Due to its size we have arranged for a contractor to remove the horse which unfortunately could not happen until this morning."
He said they had tried to trace the owner and asked for anyone with information about who owns it to contact it.