Mobility scooter spotted towing boat through Hartlepool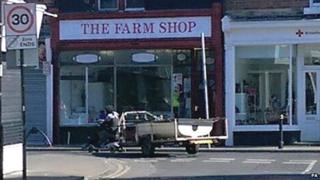 A person has been spotted towing a boat behind a mobility scooter in Hartlepool.
The unusual incident was captured by plasterer Nigel Swinburne who was working outside Sheriff Street in the town when the scooter drove past him.
Mr Swinburne said he "could not believe his eyes" when he noticed what the electric scooter was towing.
He said: "I thought there's a boat coming towards me and then 'oh it's being towed by a mobility scooter'."
A spokesman for Cleveland Police said it was legal for the boat to be towed by the scooter.