Celebrating 200 years of lifesavers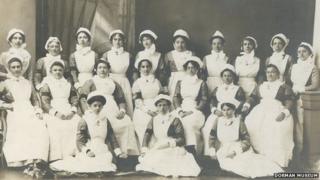 The work of police officers, wartime civil defence units, health workers and other lifesaving organisations is being celebrated across Teesside.
"Safe and Sound", a collaboration between four local museums, aims to uncover stories that have been hidden within social history archives.
Organisers are seeking volunteers to help sift through the collection, and share their own memories and items relating to the emergency services.
One of the stories already uncovered is that of the Hood family who were in charge of the Seaton Carew lifeboat.
Henry Hood was honoured for his bravery in rescuing the crew of the Norwegian schooner, The Atlas, which ran aground in a storm in 1883.
His medals, along with a silver watch presented to him on his retirement, are now housed at the Museum of Hartlepool.
In the late 1800s railway police officers protected the lines and stopped collisions between trains, as well as keeping law and order.
The project also wants to hear the stories of ordinary people who responded courageously in an emergency situation.
Middlesbrough's Dorman and Captain Cook museums, the Museum of Hartlepool and the Head of Steam Railway Museum in Darlington are collaborating on the project.
Project co-ordinator, Anna Dodgson, said: "From the crews of the lifeboats, to the police on the railways, there are so many fascinating stories waiting to be heard, and so many artefacts in our museums that can bring them to life.
"What we uncover during the lifetime of the project will go on display to the public in January next year in a touring exhibition which will travel across our partner venues."