Guisborough woman beats women's treadmill world record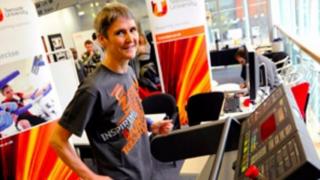 A Teesside University lecturer has beaten the women's world record for the greatest distance running on a treadmill in 12 hours.
Sharon Gayter ran 61.3 miles (98.66 km) in a 12-hour period, breaking the previous record of 96.80km.
The distance runner originally aimed to try and break the 48-hour record but took ill on Tuesday night.
The 51-year-old from Guisborough said she was "bitterly disappointed" but glad she had set one record.
According to Guinness World Records, the previous record holder was Theresa Dugwell From Canada who ran 96.80km in 2013.
Ms Gayter beat the men's and women's world records for the distance covered running on a treadmill in seven days in 2011.
She said: "I started to feel sick around 9pm but wanted to keep going to at least set one record, which I managed to break at midnight.
"I took a short break and was able to continue one until 4am, but I just wasn't able to recover from the sickness.
"I'm bitterly disappointed, but at least it's better to have at least set one record and achieve something."
Ms Gayter, a part-time lecturer at the university, has ran more than 300 marathons and more than 100 "ultra-distance" races.