Middlesbrough Town Hall: Details of restoration revealed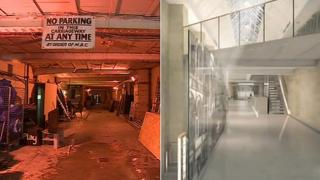 Details of a restoration of Middlesbrough's 126-year-old town hall costing nearly £8m have been revealed.
The project will see parts of the Grade II listed building being reopened to the public, including the Victorian courtroom, cells and fire station.
Plans also include a bar, restaurant with a glass atrium and a new community area, as well external lighting to illuminate the building at night.
Work is due to start in January 2016 and last about two years.
Council bosses claim the scheme will provide a "high quality, cultural venue" to attract more people to the town.
Unused underground storage areas will be turned into an open exhibition space, while the former courtroom, now used as office space, will be fully restored and opened to the public.
A Middlesbrough Council spokesman said: "We are basically going to restore to its former Victorian glory.
"Our aim is to make the town hall one of the region's leading cultural and entertainment venues but also, importantly, we want to open up its historic heritage features to the public.
"The town hall is a stunning reminder of Middlesbrough's proud industrial heritage and continues to stand as an important local landmark for the community."