Family attempts to trace lost ashes locket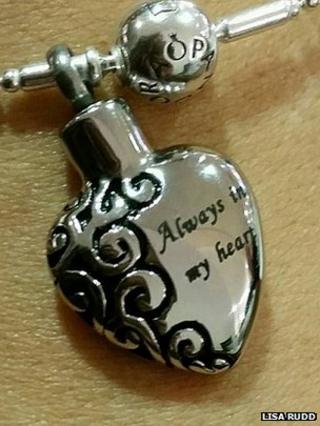 A woman has launched an appeal after a treasured locket containing some of her recently-deceased mother's ashes went missing on a trip to the Netherlands.
Elaine Neale, 62, from Thornaby on Teesside, lost her mother Pat Gowland to septicaemia in February.
She, her sister and daughter all bought identical lockets in which they placed some of Mrs Gowland's ashes.
But Mrs Neale discovered hers had gone missing during a ferry trip to Amsterdam with her husband on 6 April.
Her daughter, Lisa Rudd, has now mounted a social media appeal in an attempt to reunite her "heartbroken" mother with the jewellery.
The 31-year-old mother-of-one, who also lives in Thornaby, said: "My mum is absolutely heartbroken.
"She went to Amsterdam on the ferry with my dad on Easter Monday. But when she returned to the ship from a tour of the city she discovered it was missing.
"It's irreplaceable and we just hope someone might have come across it and return it to us."
Ms Rudd, who works as nurse practitioner, said there was no indication of theft and that ferry company DFDS had offered assistance.
Anyone with information can contact Ms Rudd via her Facebook page.