Middlesbrough mayor candidate Andy Preston denies breaking rules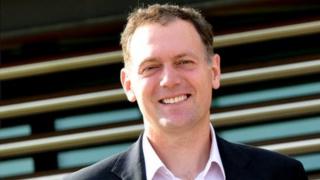 A Middlesbrough mayoral candidate has denied he has broken election rules.
It has emerged Cleveland Police is looking into two complaints of electoral malpractice by Independent contender Andy Preston.
The 48-year-old denies he spent more than the legal limit on campaign expenses and misled voters by using his parents' address in Middlesbrough on his nomination papers.
Security concerns were behind his decision to list their home, he said.
Moves to "discredit and undermine" him and advertise that he lives in a large house in North Yorkshire had left his family "terrified", he said.
"On the day I submitted that form, if I was being defensive about where my family are, then I did the right thing."
He would be spending "huge amounts of time" at his parents' home, where he grew up, he said.
His campaign expenditure so far was just over £5,000, well within the limit of about £8,000, he said.
The Teesside businessman and chairman of the Middlesbrough and Teesside Philanthropic Foundation claimed the complaints were part of a "relentless campaign" against him by a "small group of people".
The mayoral election takes place on 7 May.
The candidates are:
Lloyd Cole-Nolan (Con)
David Budd (Lab)
Michael Carr (Ind)
Len Junior (Ind)
Andy Preston (Ind)
Dave Roberts (Ind)